An Interview with Kerry Planck
Tell us a little bit about yourself! When you're not busy keeping your shop stocked with awesome soaps, what are you up to?
First and foremost I'm a mother of two young, energetic boys who've grown up tending to our goats and chickens on our organic, goat farm in western New York State. I received a Masters in Biology at Binghamton University studying aquatic plant ecology in the Adirondacks. I've always had a passion for environmental issues and in 1999 I was able to spend a semester working on a reforestation farm in Costa Rica. My Bachelor's of Science is in Environmental Forest Biology received from the College of Environmental Science and Forestry in Syracuse, NY.
Once I graduated I began working in the Agriculture Industry for a few years before having my first son in 2004. I choose to quit my position with the USDA and start a certified organic goat farm in Western New York State, producing organic goat milk (the only NYS producer of organic goat milk, and one of 37 producers in the country).  I had been making cheese and soap for our family for years and decided to start a small business utilizing our organic milk for soaps and skincare products. Alpine Made LLC was started in 2011.
So…why soap? What about soap keeps you dedicated to the business?
I have always believed in organic products! If I don't grow or make the organic foods we eat, I buy them from local organic farmers through CSA programs, or at Farmer's Markets and food co-ops.  When I was pregnant with my first son, I knew that if I could only choose a portion of our foods we ate as organic, due to cost constraints, I understood it had to be of the meat and dairy food groups. I decided that raising my own dairy animals would cut down on food costs over the long run, so I bought my first few goats at a county fair in 2008 and the farm grew from there.
When I began making and using my goat milk soap, skin issues like dandruff and dry, cracked skin went away and I understood from then on how damaging commercial soaps were for us. My family uses nothing but my goat milk soap and I then expanded into all sorts of other goat milk skincare products such as lotion, creams, and lip balms. I sell more than 60+ products in our Alpine Made line.
What made you commit to operating a certified organic farm that produces goat's milk?
I always knew I was an environmentalist at heart as a child. Even though my career path veered in the direction of agriculture, I wanted to incorporate what I learned in college into my farming operation and mission. I farm not only using certified organic practices, but in sustainable methods as well. For example, I use solar power when possible, to power our water pumps and heat water. I've also plant shrubs and trees to create a diverse plant and animal environment at my farm. This diversity of plants has attracted wildlife to my property and I've designed my pastures to allow my livestock to live contently alongside this wildlife I've purposely attracted.
Goats are the perfect dairy animal to have in a diverse plant environment because they prefer eating the large choices of plants available over grazing on traditional grass pastures systems. They produce delicious milk too. I raise the Alpine dairy breed and recently had my logo created with that in mind. Alpine Made provides goat milk skincare products to people who desire a fresh, unrefined, natural product. My products also act therapeutically to heal skin issues such as eczema, psoriasis, acne, dandruff, etc.
Any plans for the future that you want to share? Line expansions, new methods of selling, all of that fun stuff!
Any plans for the future that you want to share? Line expansions, new methods of selling, all of that fun stuff!
Like many of us building a small business, I outline long-term goals in my business plan and modify them as needed to remain proficient and competent within changing markets. It takes an enormous effort to develop a reputable product line and also the appropriate labeling and packaging for the products. I recently launched our line within two large grocery store chains in the Northeast, and we're hoping to expand our online presence to direct ship to our customers through platforms such as Mindful Market. In 2019 I partnered with an artist and dairy expert, Greg Ricciardiello who will help scale the operation into the next decade. We currently employ a team of trained and skilled people who help manufacture our line of soaps and skincare. I have a decent understanding of chemistry and being a trained biologist has helped me understand all of the experimentation and testing needed to develop wonderful organic goat milk skincare products over the years. I research and stay as informed as I can about the latest information in this industry before creating any new products. I learn something new each day and that's what makes building and strengthening our product so much fun.
I'd like to also mention that our vision for the next decade is to build a teaching center at our organic farm in Western New York. Our vision is to bring in speakers promoting topics that help improve people's lives. Our future speaker series and teaching workshops will embrace a broad scope of topics involving holistic health and well-being, the creative arts, and classes geared towards business entrepreneurship and organic farming. Whether it's to encourage people to start their own business, or assisting people in improving their interpersonal relationships with themselves or others, we will incorporate a diverse curriculum in what we offer our guests. Additionally, we will offer opportunities for the public to book Venues and Retreats here at our organic farm location.
We are NOFA-NY certified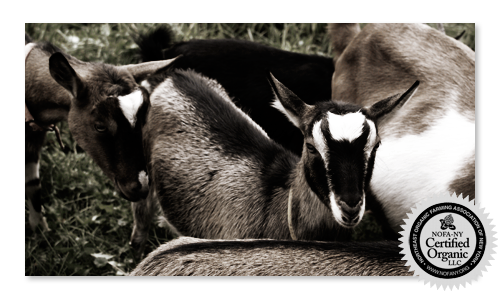 Alpine Made is a goat milk skincare, product company owned and operated by Kerry Planck. Although most of my skincare products are natural, we do have a line of certified organic products. And my goat's milk is certified organic creating my nourishing soaps, lotions and creams. My farm Beiter and Sons' Farm LLC is certified organic by NOFA-NY Certified Organic, LLC. NOFA-NY certifies that the organic farming seeks to maintain and improve the productivity of the land by encouraging and enhancing natural biological processes.
I thus stand by organic farming standards, it is the wave of our future and promotes sustainable practices not only in farming but in every aspect of our lives. Organic farmers nurture healthy plants and animals by working to create a foundation of healthy soil. Great attention is paid to nurturing the soil with composts, cover crops, rock minerals and natural fertilizers. Plant disease and pests are controlled through the use of crop rotations, resistant varieties, cultivation, biological pest controls and botanical controls. Animal health is maintained with wholesome food, adequate shelter, access to the outdoors and preventive health plans. The use of synthetic chemical fertilizers and pesticides are prohibited in certified organic production.
Our mission at Alpine Made is to create awareness of the new paradigm that supports healthy, clean and sustainable living. We use our organic goat milk to create pure, alternative products that cleanse and moisturize the skin.