Dec 21, 2020

Ruminants and Pollinators: "The Goat Box" Blubird Studio in collaboration with Alpine Made

As a business run by a farm girl turned artist, Blubird is a passionate supporter of local agriculture and female farmers. You all know I'm obviously into sheep. I also really like goats. And our pollinators…like birds, yes, but especially bees. I strongly believe in the regenerative power of sustainable agricultural practices and the role that our ruminants can play in healing our planet.
I'm also a total crunchy granola who once set out on a perverse mission to grow 70% of my own food, keep my own chickens and bees, healed my c-section scar with raw honey, who owns a grassroots co-op and buys organic.
I believe in the magic that comes from collaboration and community support.

Several years ago, while I was still selling dryer balls out of my kitchen pantry to the women in my book club and calling Blubird a BuSIneSs, I worked up the courage to approach a very smart, kind woman with fantastic earrings at the Farmer's Market about a wholesale arrangement. I was green but eager and she was doing something I couldn't imagine doing myself – putting herself out there front and center.
We talked for almost half an hour, and she closed the conversation with a casual throwaway that would turn out to be a fateful sentence: "Send me your line sheet and I would love to take a look!" Whereupon I realized two things: a) I had no idea what I was doing, because I had no clue what a line sheet was, and b) My ambitions were bigger than my realities.

I went home, googled line sheets and then REALLY realized I wasn't running a business. I set out on a two-month long mission to map out my exact production costs, production times (yes, with formulas – you all know I'm a geek by now) and develop my supply, wholesale and retail pricing models. It was intense. It was exact. It was consumptive. It was retentive and obsessive. It was a glorious exercise in getting over my shit and learning to how to value my time and by extension, myself, thereby making sure that what I was doing was worthy of commitment (I've been accused of some teensy issues in that department).

This was when Blubird was truly born. I made a promise to myself that within one year, I would get my product into a wholesale account with Alpine Made, and be a part of their market circuit, which stretched across the state. In order to do that, I had to build a solid foundation and be able to revisit that conversation with confidence. This was the first real goal that I set for Blubird, and served as what I know now as a first step in learning how to love something enough to subject it to the weight of an expectation, and susequently, the risk of failure. Which is what I think we all struggle with when it comes to commitment, isn't it? The recognition that you want something bad enough to have to contemplate what it means to mess it up. And coming to terms with the knowledge that if you're too afraid to take it seriously, you will. Sometimes you have to commit to the line.

Did I do it? At this point, do you have to ask? Yes, I damn well did. 5 dryer ball sets and a 10-pack of #goodcleanwool later, the deed was done.

The rest is herstory.

Through the Alpine Made herd, I've met some wonderful people that I'm proud to call friends and now, colleagues. Specifically, the driven, bright, lovely and authentically passionate Jennifer Zeitler of Let's Goat Buffalo, who has undertaken the goal of establishing urban goat grazing in Western New York with all the energy of a one-woman army.

Goatscaping, while popular on the West Coat as part of the larger movements surrounding conscious green management in the Pacific Northwest, hasn't made real inroads in our area. Using goats to manage greenscapes instead of traditional landscaping greatly reduces the use of toxic herbicides, and because the goat digestive process effectively sterilizes seeds and reproductive plant matter, they are an ideal treatment for invasive plants. Through Let's Goat Buffalo, Jen employs rescued goats to provide effective vegetation clearing services.

Some of these goats are retired dairy goats from herds like Alpine Made, and some are goats who can't bear or breed due to health issues, making them dead ends in a traditional farming model. Let's Goat Buffalo offers them the chance at continuing to live fruitful, healthy lives, while contributing to a better environment for us all.

Goats, like other members of the ruminant family, eat around bird nests, avoid leaves containing a cocoon or chrysalis, and allow animals like turtles, toads and small mammals to move out of the way. (Traditional landscaping destroys habitat and often kills these creatures, which are essential components of our flora and fauna cycles.)

As goats eat and sterilize unwanted plants, their waste adds nutrients to soil, leaving the land healthier and able to sustain native plant growth. Because of the manner in which goats graze, they are able to root out invasives without damaging native undergrowth, eliminating the need for aggressive landscaping work or pesticide applications that are normally required to control noxious overgrowth.

These skills were on full display last year at Silo City and the grounds of Hotel Henry, part of The Richardson Complex. 2018 also saw Jen's goats go to work on the Olmstead Park System and the RIT campus, and Jen recently returned from a huge project at Montezuma Nature Preserve, where this badass brave woman camped out by herself in the wilderness with no one but her goats in her GOAT BUS.

Yes, I said it. Goat. Bus. Last year Let's Goat invested in a vintage school bus and retrofitted it to accommodate shepherds quarters and a mobile paddock for the four legged divas, and it is mad brilliance. I've ridden it – its virgin journey, in fact…at night, before the interior lights were repaired, with temp tags taped to the windshield; barreling down back roads with our beautiful friend Thiago grinding the gears and shouting in Portuguese in the dark like a mad hatter, while we bounced around in the back reliving our adolescence. It was all very Douglas Adams. Even more so by the fact that we were only going to the gas station.

In all seriousness, though, it also allows Jen to dispatch her herd to any commercial or residential property, no matter how remote, and bring the goats right to where they're needed most.

By using natural, pesticide-free treatments, these goats help revitalize our home and community spaces by creating healthier soil, increased biodiversity and a greener future. Her work is rooted in wholeness, and her herd is hosted at Kerry Planck's Alpine Made Farm, 15 acres of organic pasture tucked away by the Buffalo Creek, just outside of East Aurora. Kerry's philosophy is guided by her vision for a world where working together with balanced selves within our community will create a shift towards a more harmonized state. Alpine Made is committed to soap and skincare products that nurture both the body and soul. Soap making is very close to alchemy, and Alpine Made soap is the real thing. All colorings and scents are derived from flowers, vegetables, herbs, spices and essential oils, many of them grown on the farm. Kerry's interest in making sure we protect our local pollinators isn't just an abstract concept for her – it is essential to her way of life.

She is resurrecting a lost art and tradition right here in Western New York, and I've loved every minute participating with it.

Kerry's and Jen's relationship with these goats is a perfect circle of loving, ethical and conscious animal husbandry and sustainable agriculture, and I am constantly reminded of how fortunate I am to be a part of this little business synergy engine that composes the Alpine Made, Let's Goat Buffalo and Blubird World. This circle of women has supported me over and over when I am at my breaking point, especially through this past year.

It's worth mention that Jen and I are both amateur beekeepers. The health of our native bee populations impact an entire chain of environmental health, from amphibians to birds. As these populations suffer, we ponder the realities of what that means from a first-person perspective. We're not messing around. These individual movements matter, and the small contributions that we all make by forming our everyday lives around practices and products that contribute to wholeness and healthy communities of all kinds can change our world.

All of these reasons, and more that have no place on an already overly emotional revelatory blog, is why I'm proud to come together with Let's Goat Buffalo, Alpine Made, and my dear friend and artist Erin Lalley of Ferncroft Floral in Buffalo, to create a local Ruminant Love Box, affectionately known as The Goat Box, to help bring awareness of the importance of these individual issues by offering a Christmas time gift box made of curated small crafted goods all connected to these movements that matter to us, timed to coincide with Let's Goat Buffalo's brand new goat sponsorship program, HERD, recently featured in the Wall Street Journal (go Jen!).

Consider a purchase, either for yourself or as a gift, to help be a part of making goat grazing a part of the Western New York landscape and eliminate pesticide use in the management of invasive species growth, and give green a chance.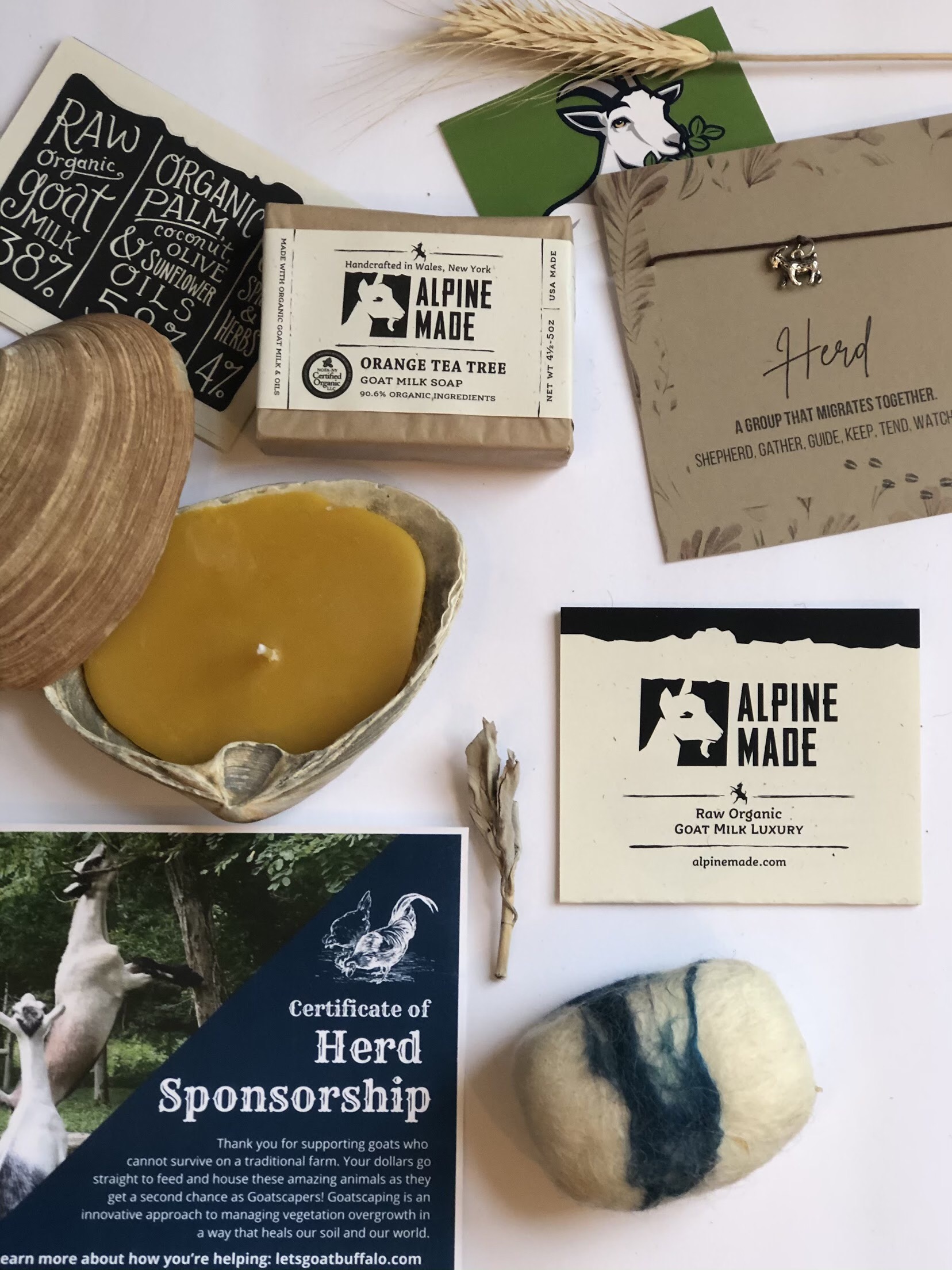 Each Ruminant Love Collaboration Box includes:
1 bar of organic Alpine Made Goats Milk Soap
1 bar of Blubird #goodcleanwool Felted Alpine Made or Woolen Luffa
1 LGB entry level Herd Sponsorship and Limited Ed. Goat Charm Bracelet
1 Ferncroft Artisan Clamdle, handpoured using locally sourced beeswax right from East Aurora into
found clamshell; a special treat for our long winter nights.
Support our pollinators, our local biosphere, local arts, female entrepreneurs and farmers, and small organic agriculture this season all at one go.
Box pick-up will be out of our studio on Elm St, East Aurora or Ferncroft Floral by appointment for Buffalo Urban pickup, on or after 12/22. To reserve your box, order by noon 12/21, and select Local Pickup at Checkout.
See the Goods in the Shop through the link above.
We will happily ship, but be aware that shipped orders will not arrive in time for Christmas.
Thank you for supporting local in 2020!
All my love, Tami Fuller
#blubirdflying 12/19/20